Frankly, I'm a fish out of water. My parents were always on me to drink water. I didn't see the need, but now I do. Water is what makes our skin healthy, not to mention our insides, our organs. So I'm always trying to remember to drink water. The other day I read that as we age, we lose our ability to gauge our thirst. I'm not sure I ever had that ability to begin with.
If you've been reading my blog lately, then you know that I'm thrilled with this new lifestyle change I've been practicing. I'm talking about the book called "The Skinny Rules"; and how it has changed how I live my life, as it relates to nutrition. I wrote about this last week–about my biggest change, my quest to eliminate the added sweeteners in my food products. I continue to practice this every time I buy a food product. If I'm not familiar with it, I read the label and look for a sweetener in the first five ingredients. If it is there, I put the product back on the shelf.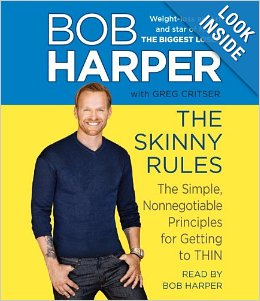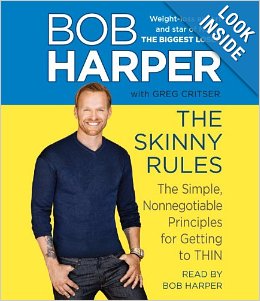 There is also another big change that I've embraced. Rule 1 in the book is to drink a large glass of water before every meal—no exceptions.
I've always wanted to drink more water, but I forget. Plus, I don't really like to drink water anyway. I believe that my forgetfulness has to do with my selective memory. My mind keeps telling me that it isn't that important, but I know it is. The author Bob Harper says, "Just by drinking water, your body increases its burning of calories. The scientists estimated that, if you just do this, you'll burn off an extra three pounds over the next year."
Let's see! Nicer skin, better digestive system, and weight loss! Sold!
I don't always remember to drink water before the meal, as suggested; but it helps me remember to drink it either before, during or after the meal. That is half my battle.
I am drinking more water—lots more water. That's a good thing!
I love this book.